Welcome to GRANDMA'S CHEESECAKE SANDWICHES
where you can indulge in the delicacy of your favorite dessert in a totally new way.

Visit our NUT FREE Bake Shop at 12-40 Clintonville Street, Whitestone, New York for
specialty cakes, cookies, cake pops and more. Sample some of our 36+ fabulous cheesecake sandwich flavors.

Monday - Saturday 10:00 AM - 7:00 PM

917-596-9270

Free Nationwide Shipping @Goldbelly



U.S. PATENT PENDING
Our New TV Commercial now airing on Spectrum, Dish, Verizon Fios, and Direct TV
---
Visit. Shop. Share. Taste.
Milk Chocolate
Smooth, luscious MILK CHOCOLATE CHEESECAKE sandwiched between two soft chocolate cookies makes this one the perfect chocolate lover's treat.
More Flavors
Plain
The old-fashioned taste of PLAIN (CLASSIC) CHEESECAKE whipped to perfection between two soft golden cookies puts this choice at the top of the list.
More Flavors
Chocolate Chip
A combination of two favorites make up the rich taste of our CHOCOLATE CHIP CHEESECAKE SANDWICHES, giving them just the right hint of sweetness.
More Flavors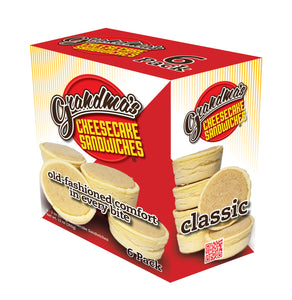 OUR NEW 2 oz. CLASSIC 6-PACK
Consumer Testimonials
"Why didn't anyone think of this before? CHEESECAKE you can eat with your HANDS! Like, while you're driving to that party, and you're bringing the Grandma's Cheesecake Sandwiches, because, duh and really, why not one for the road? You deserve it. My kids don't even like cheesecake, and they scarf these babies down. Our favorite: Chocolate Chip."
Leila S. ~ Los Angeles, CA
"These delicious morsels are everything you could wish for in a cheesecake! These made for an excellent surprise for my store team and we shall have more again really soon. What a special treat!"
Melanie Q. ~ Manhasset, NY
"Great great product. Delicious frozen or thawed. I am totally impressed."
Larry G. ~ Tampa, FL
"So I couldn't wait until I got home to try the cheesecake, I dove into it in the late afternoon.  That is the best cheesecake I've ever had and I'm not just saying that.  It was so light and moist... I usually don't like cheesecake because it is usually dense and thick and sometimes dry.  Like eating a brick. It was like clouds.  Moist and soft.  Not too sweet.  I kept thinking about the taste long after I finished and that is saying something. It was cloud-like comfort.  Cloudlike comfort food." 
Sarah M. ~ Ossining, NY
"Cheesecake sandwich is great! I tried the chocolate chip."
Mark S. ~ Pittsburg, PA
"The cheesecake sandwiches were a HUGE HIT at Thanksgiving dinner."
Jimmy D. ~ Indianapolis, IN
"Grandma's Cheesecake Sandwiches are the perfect snack when you need something delicious. They're not too sweet, they're not too thick, they're just right.  They are so smooth and creamy, and so satisfying. I've tried every flavor and can't name a favorite. They are all so good!!"
Patti P. ~ College Point, NY
"I will put this as short and sweet as possible. I LOVE your cheesecakes sandwiches! With every bite, the more sad I get knowing I'm almost done."
Andrew K. ~ Roslyn, NY (more)
Single Packs
Available in the freezer section at select stores in plain, chocolate chip, and milk chocolate.
Coming soon to a store near you.
Find Store